Saturday, October 8, 2022 - 1:30pm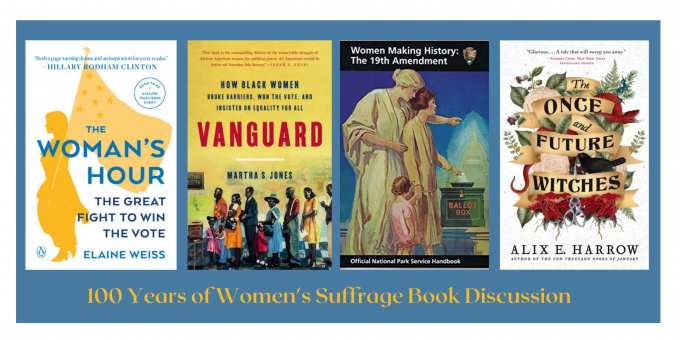 Description: UDPL & WVPL Present 100 Years of Women's Suffrage Book Discussion: With 100 years of hindsight, it could seem that ever prohibiting women from voting was simply absurd, an error easily put right. Americans today speak casually of women being "given" suffrage, but this was no gift. Winning the vote required a fierce, long struggle that women and their allies sustained over generations. It was international, violent, painful, racist, and frustrating. Suffrage fractured friendships, families, and communities, as it failed and failed and failed. And then, at last, it didn't fail — we succeeded by one vote…just one.
In this grant-funded* series, we will plunge into this thrilling story of tensions and challenges, of endurance and change, of women working together and against each other. Join us on the journey to see how American suffragists rewrote womanhood itself on the journey to universal humanity and citizenship.
May 14: The Woman's Hour: The Great Fight to Win the Vote by Elaine Weiss
June 18: Vanguard: How Black Women Broke Barriers, Won the Vote, and Insisted on Equality for All by Martha S. Jones
September 10: Women Making History: The Nineteenth Amendment Book, essays compiled by the National Park Service
October 8: The Once and Future Witches by Alix E. Harrow
Free copies of the book will be available on a first-come, first-served basis.
Instructor: Dr. Sharon Ann Holt earned a Ph.D. in American history from the University of Pennsylvania. Author of Making Freedom Pay: North Carolina freedpeople working for themselves, 1865-1900, she has divided her career between academic teaching and public history, serving museums and historical organizations. Since 2014 Holt has taught History and American Studies at Pennsylvania State University's Abington College, where she also directs the public history minor. She recently received an Emmy award for her work as a historical commentator on Philadelphia: The Great Experiment (History Making Productions).
Registration:  REGISTER HERE for the October 8 discussion.
*American Rescue Plan: Humanities Grants for Libraries is an initiative of the American Library Association (ALA) made possible with funding from the National Endowment for the Humanities (NEH) through the American Rescue Plan Act of 2021.